1 Thessalonians 1:3 – Remembering without ceasing your work of faith, and labor of love, and patience of hope in our Lord Jesus Christ, in the sight of God and our Father;
Pastor Billy & Rosalinda Montes
Pastor Billy – Senior Pastor
Rosalinda – Women's Ministry Leader
As Senior Pastors here at Trinity Church our heart is to serve and to simply love you unconditionally right where you are in your life no matter what's going on or where you have been, but also to love you enough not to leave you there, as we know that Father has great plans for you! We know that you will feel right at home and we encourage you to get plugged in and believe God for great things in your life and in those around you! We believe in God the Father, God the Son, and God the Holy Spirit. The death, burial,and the resurrection of Jesus Christ and the empowering of the Holy Spirit. Our vision is to encourage the body in the Lord and to equip the saints for their own ministry outside of church walls and to make a positive difference in this world with the Saving Gospel Message of Salvation through Jesus Christ our Lord, not only through your talk but through your walk. We are all family in Christ here and we all encourage each other even on a daily basis, we laugh together, and even cry together. Whether your just passing by to say hello or looking for a place to call your home, we welcome you with open arms just as you are, after all we all need each other in order for the body to function effectively for the Kingdom.
God Bless You, and we love you so much
~ Pastor Billy & Rose Montes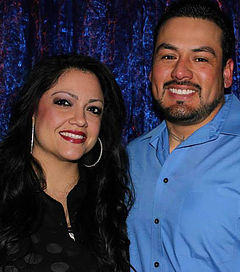 Pastor Manuel & Pastora Heather Roque
Pastor Manuel – Associate Pastor/Marriage Pastor
Pastora Heather – Worship Pastor/Marriage Pastor
As Praise and Worship Leader my role is to bring the church to a place where God's glory can rest upon us as we allow the Holy Spirit to lead us. It's not about us, it's all about Him. We are in the company of the King. In Psalms 22:3 it says that God inhabits in the praises of His people. We prepare a place for Him to dwell. Worship not only changes the atmosphere around us, it has the power to soften harden hearts, bring revelation, deliverance and have breakthroughs. Trinity Church Praise and Worship Team desires to bring the church into a deeper level of worship, to grow in their relationship with Christ, and apply a whole lifestyle of worship. At Trinity Church there is a freedom to worship freely and exalt His name on high. When we can come to a place, for where two or more are gathered together in my name, there I am in the midst of them (Matthew 18:20) and the power and anointing of the Holy Spirt becomes evident all around us.
Psalm 100:1-4
Shout for joy to the LORD, all the earth. Worship the LORD with gladness; come before him with joyful songs. Know that the LORD is God. It is he who made us, and we are his; we are his people, the sheep of his pasture. Enter his gates with thanksgiving and his courts with praise; give thanks to him and praise his name.
Pastor Micheal & Amanda Simpson
Pastor Micheal – Associate Pastor / Youth & Family Ministries
Amanda – Administrative Assistant
My wife Amanda and I's journey at Trinity Church began when we were kids. I began attending when I was in Junior High and Amanda's family began attending when she was in Elementary. It wasn't long and we got our first taste of ministry serving in our children's church as youth. I believe it was at this place in my life that God began to develop a hunger in me for teaching others about God's love.
We officially met while attending the youth group we now have the privilege of leading. After graduating High School I attended Harvest Seminary and received my Master's Degree in Theology while Amanda went to Lubbock Christian University and received her Bachelor's Degree in Family Studies all while attending and serving at Trinity. In 2006 I was ordained and accepted a position as Associate Pastor and began leading our youth ministry. I married my lovely wife Amanda in October of 2011 and we welcomed our daughter, Sarah Jo in April of 2016 and our son Joshua in May of 2020.
Today, we continue to serve alongside an excellent ministry team, many wise men and women of God, and great pastors. Our desire and mission is for the lives of children, youth and families to be impacted for the Kingdom of God! My passion is to see young people actively growing in their relationship with Christ and unashamed for it! We believe in equipping our youth with the living and active word of God, teaching them to apply it by word and deed. This environment helped me discover God's love, purpose and gifts for my life. My deepest desire is to see that others get the same opportunity that I did. Finding a Church to call home is a BIG decision, one that will impact your entire family. With that in mind, we invite you and your family to join us in fellowship here at Trinity Church. I can't wait to meet you!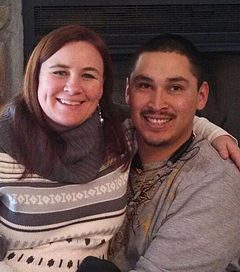 Marcy & Shonda Castillo
Children's Ministry Leaders
Hi there! We are Marcy and Shonda Castillo! We are excited and blessed to be your children's church leaders. We are very passionate about growing each child in the body of Christ and guiding them to be leaders of the Christian faith! God is so good and we look forward to serving where God has called us to be!! God bless you all!!